Skip to Content
Periodontal Disease? What's That?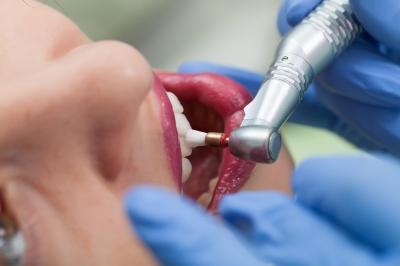 Periodontal disease is very common. It can be something that is "simply" gum inflammation or it can develop into something quite serious that leads to bone and tooth loss. In between those two extremes are other symptoms.
How Does It Develop?
The bacteria in our mouths combine with saliva and sugars from food we chew to create plaque. This sticky, colorless film covers our teeth unless we brush and floss it away. Over time, any plaque that is not removed can harden into tartar. Tartar must be removed through professional cleaning.
Tartar and plaque that remain on the teeth can cause gingivitis. That means that the gums are red, swollen, and bleed easily. This level of periodontal disease is fairly easily reversed by good oral hygiene habits and cleanings.
If the gingivitis is allowed to continue, small pockets develop around the tooth at the gumline as the gums pull away from the tooth. At this stage, the disease is called "periodontitis". The area becomes infected and the body must fight the plaque and tartar buildup below the gumline at the tooth. Sometimes the connective tissue and bone in the area are affected and start to break down. This causes the tooth to become loose.
How Is It Treated?
Again, this depends on your symptoms. It may be that a good professional cleaning by one of our hygienists is all you need. Another option would be a specific type of periodontal cleanings called a "Deep Cleaning" or "Scaling and Root Planing". This involves scraping off the tartar and plaque that has developed below the gum line. Sometimes medications are used. This may be an oral rinse that is used as a mouthwash, or it may be oral medications that are given.
What About Gum Surgery?
There are times where gum surgery is indicated. But at Library Park Dental we are proud to have one of only 3000 dentists worldwide who are trained in the Chao Pinhole Technique. This means that Dr. Chiappetta can perform gum surgery without incision or stitches.
Schedule an Exam or Cleaning Today
No matter whether you have a mild case or serious periodontal disease, seeing the staff at Library Park Dental in Kenosha, WI, will help get you on the road to healing. We will create a treatment plan with you so that you can have a healthy mouth. Call us today!