Skip to Content
Library Park Dental Is Partnering with Dr. Jim Crawford of Wisconsin Ambulatory Anesthesia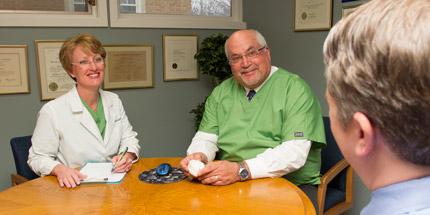 By partnering with Dr. Crawford, Library Park Dental can provide additional anesthesia services for your dental needs.
Who Is Dr. Crawford?
Dr. Crawford was raised in Kenosha and is not only a licensed dentist but also completed additional extensive training in anesthesiology. During his 3-year residency in Dental Anesthesiology at the University of Pittsburgh, Dr. Crawford published three articles and gave numerous CE lectures on the topic of anesthesia and sedation in the dental office. Extensive OR training in pediatric, adult, geriatric and special needs anesthesia was all part of Dr. Crawford's tenure at UPMC Hospitals and Clinics. This wide range of experience allows him to determine the best type of sedation for your situation; moderate, deep, or general.
Who Will Do My Dentistry?
Dr. Chiappetta or Dr. Haugstad will complete your dentistry, and Dr. Crawford will take care of your anesthesia. This partnering will allow you to have one dentist focusing on your dental care and another focusing on your sedation.
Who Can Benefit from This Kind of Sedation?
People who are anxious or fearful can have extensive dental work done while being sedated.
Children who are too young to understand or cooperate with instructions but need dental work completed are able to be treated without fear.
People who may not be able to cognitively understand what is happening or are unable to follow instructions, whether they have dementia or have developmental delays that do not allow them to understand.
People with tremors like Parkinson's, Essential Tremors, or Cerebral Palsy.
What Should I Do If I Am Interested in Sedation Dentistry?
Contact our office and make an appointment. We will discuss with you how Dr. Chiappetta, Dr. Haugstad and Dr. Crawford can work together to provide the most appropriate anesthesia for your situation.