Skip to Content
April Is National Facial Protection Month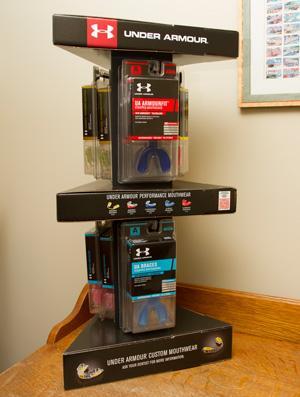 Your dentists at Library Park Dental want to help keep your teeth and gums from getting injured while playing sports or engaging in all kinds of activities.
The Academy for Sports Dentistry, The American Academy of Pediatric Dentistry, the American Association of Oral and Maxillofacial Surgeons and the American Association of Pediatric Dentistry have joined together to sponsor this annual campaign to educate and remind everyone of the importance of protecting our face and teeth against impact and injury.
Football helmets have been vastly improved and more people are recognizing the need to wear helmets while bicycle riding, but not everyone seems to realize the extent to which a helmet can protect you from devastating physical damage. According to the American Association of Oral and Maxillofacial Surgeons, helmets reduce the risk of various head injuries by as much as 85 percent. Helmets have been known to save lives.
The dentists at Library Park Dental care about you and your family and encourage you to wear helmets with the appropriate sticker rating for specific activities. Wearing the helmet as designed will help to protect your skull and jaw. If there is an attached faceguard, helmets will also protect your teeth. Anyone involved in football or other contact sports should wear a faceguard and a mouthguard.
Mouthguards can protect you against a variety of dental injuries, such as cracked, broken, or knocked-out teeth. According to the American Dental Association, mouthguards help to prevent up to 200,000 dental injuries every year. But the effectiveness of mouthguards varies. The Academy for Sports Dentistry recommends a mouthguard that is custom-fitted.
At Library Park Dental, we can help fit you and your family with custom-fitted Under Armour Mouthwear. A wide variety of mouth wear is available, from options that protect in full-contact sports like football or hockey to limited contact sports like soccer or baseball. Even people participating in non-contact activities like golf or tennis can benefit from performance mouth wear.
While your dentists are concerned about your teeth and jaw, we also are concerned about reducing impact. This helps to minimize the G forces that can cause concussions. The Performance Mouthguards have been shown to reduce the force of blows to the jaw by up to 20%.
Call Library Park Dental today to make an appointment to get fitted with the best Under Armour Mouthwear for you.